Campus Philly is a nationally recognized economic development organization that increases talent retention in the Philadelphia region by connecting college students to internship opportunities, entry-level jobs and cultural experiences off campus.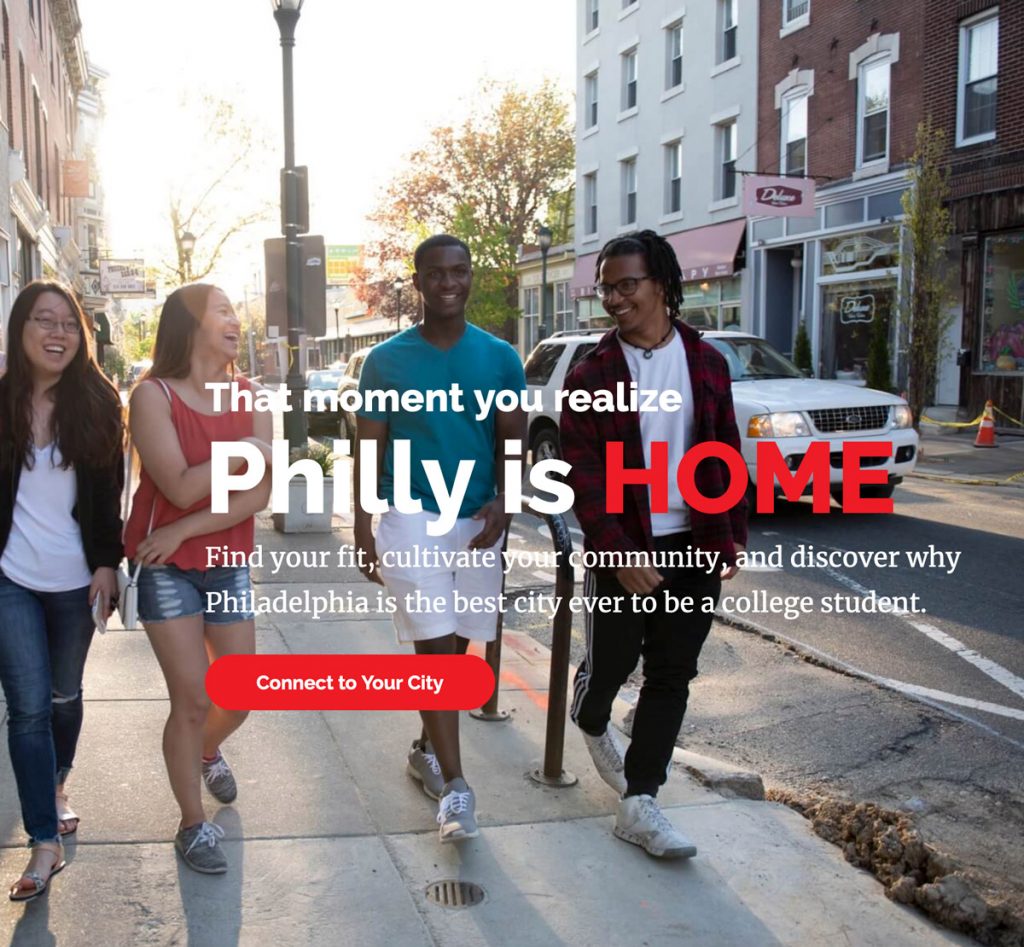 For the redesign of the website, I worked with Spacious, an awesome web design agency in West Philly. If you need a new website, check them out and tell them Roger sent you.
Goal: Improve the user experience with a unified web property serving all aspects of the college student lifestyle. Lower barriers for students and employers by streamlining the processes for creating accounts, logging in, and creating content.
Challenge: In 2018 Campus Philly's web presence consisted of three distinct properties serving Philadelphia college students: a job board, a Philadelphia events calendar highlighting student discounts, and a general website focusing on Campus Philly events and seasonal content. Traffic to the general site remained consistent, but the job board and student discount platform were losing traffic due to technical issues and changes in user behavior. We needed increase our website traffic and engagement.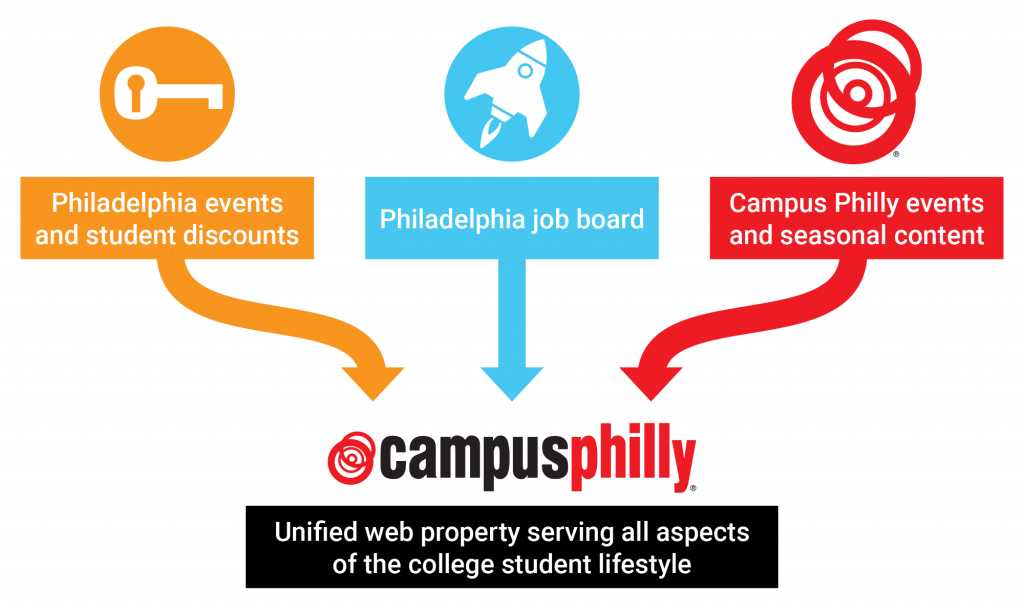 This was an incremental process. First we brought the events calendar and student discount features into the general website. Students would no longer be required to login to receive discounts and traffic would be sent to partner websites with more information. This simplified the internal process of updating the current student discounts and benefited Campus Philly partners by sending traffic to their websites.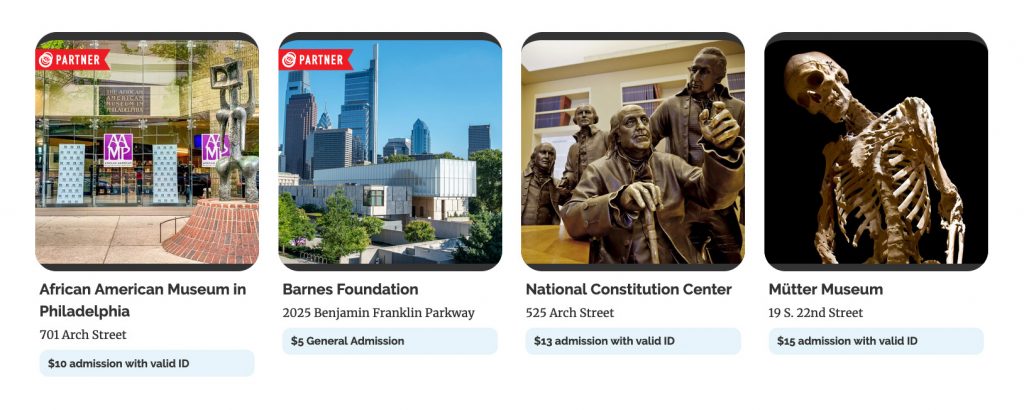 Because of improved content and higher ranking in search results, we saw a 130% overall increase in traffic for the first six months of this process. Metrics for bounce rate and pages per session also improved showing increased engagement.
This initial iteration was followed by a full redesign that added the job board to the general website. The existing features (events calendar, student discount directory, blog) were migrated and updated. On the new jobs board, user experience was improved for students by no longer requiring a user account to browse and apply for jobs. Campus Philly staff would monitor the listings to ensure only quality opportunities are posted, adding to the trust students have for the platform.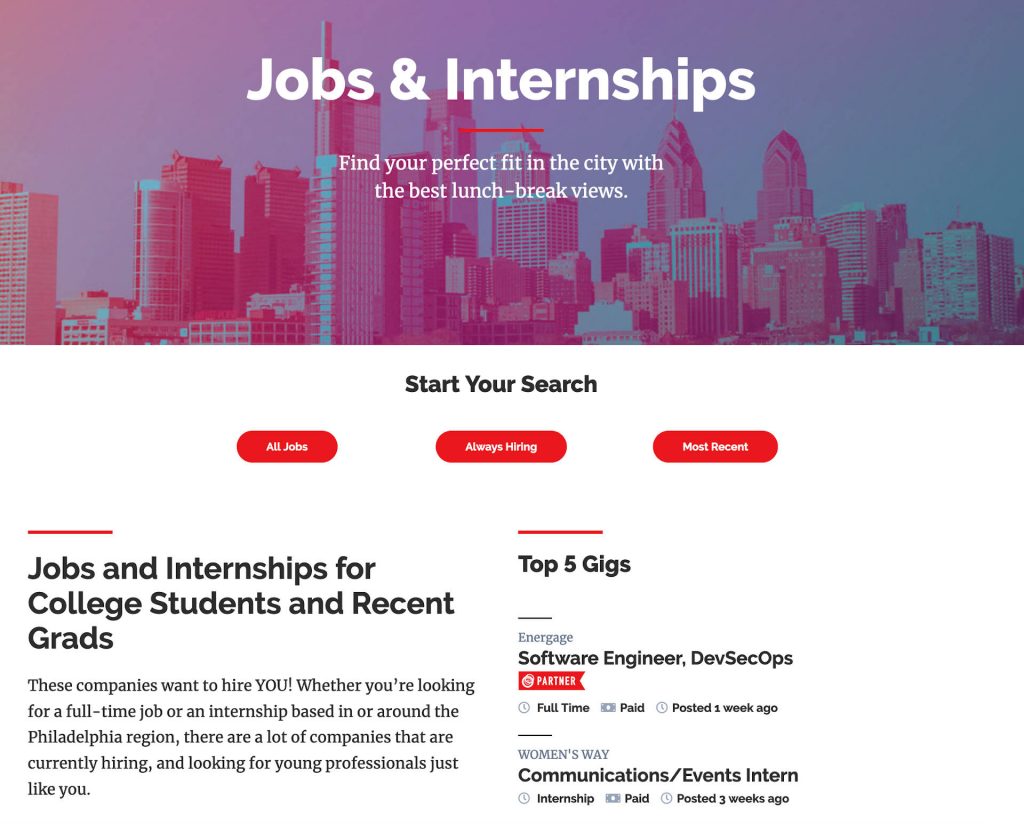 Adding flexibility to the job posting process that met the different needs of employers resulted in a 500% increase in job posts in the first month.
The process of posting jobs was improved for employers by adding the option to simply list the job title, add a few tags and link to their own internal application systems instead of requiring them to populate the Campus Philly website with potentially redundant information. Employers also had the option to create posts with full information if they did not have their own job application platform.
To see the live website visit campusphilly.org