Rifle Cricket
A shooting game based on the classic game of darts, the first match was played in Caledonia, NY on Christmas Day 2008.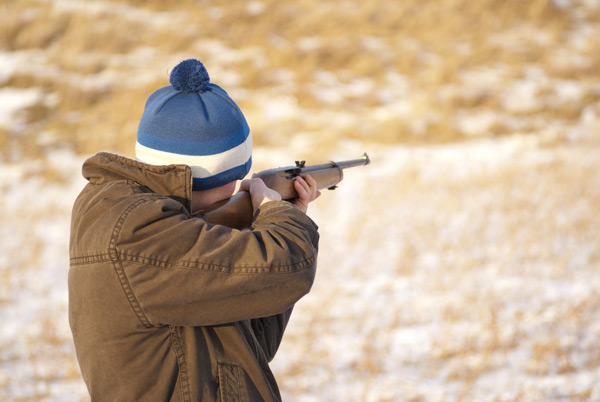 Joe Estes Taking Aim; All photos December 25, 2008
Rifle Cricket Target 01 uses the same proportion for scoring zones as a standard Cricket board with triples and doubles rings. After testing, we decided it needed to be altered for better visibility at 40 yards.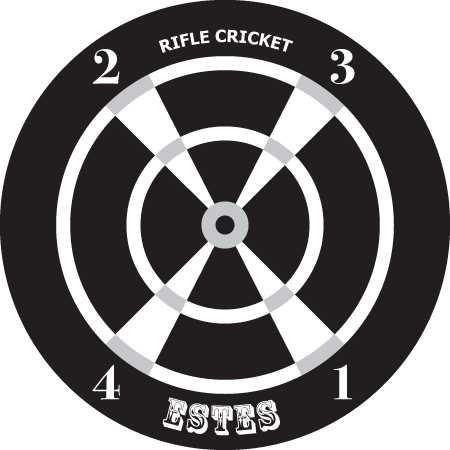 Rifle Cricket Target 01, 23" x 23"
Design used in early testing
Rifle Cricket Target 02 features simpler proportions and a more clearly defined use of tone for scoring zones. The triples ring is eliminated and the doubles ring is moved toward the center of the target.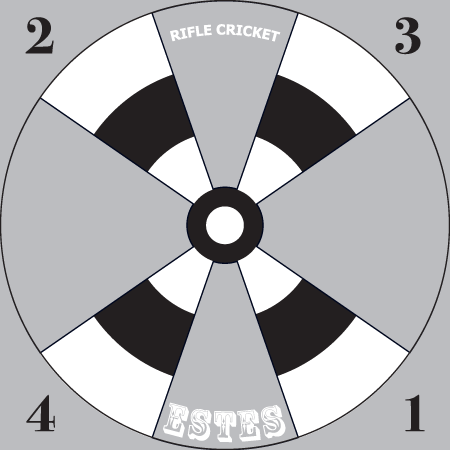 Rifle Cricket Target 02, 23" x 23"
Design used in the first match
Set Up: Each team gets their own target, mounted with the center 36" from the ground, 40 yards from the shooting line. Rifle Cricket can also be played head-to-head with just two people.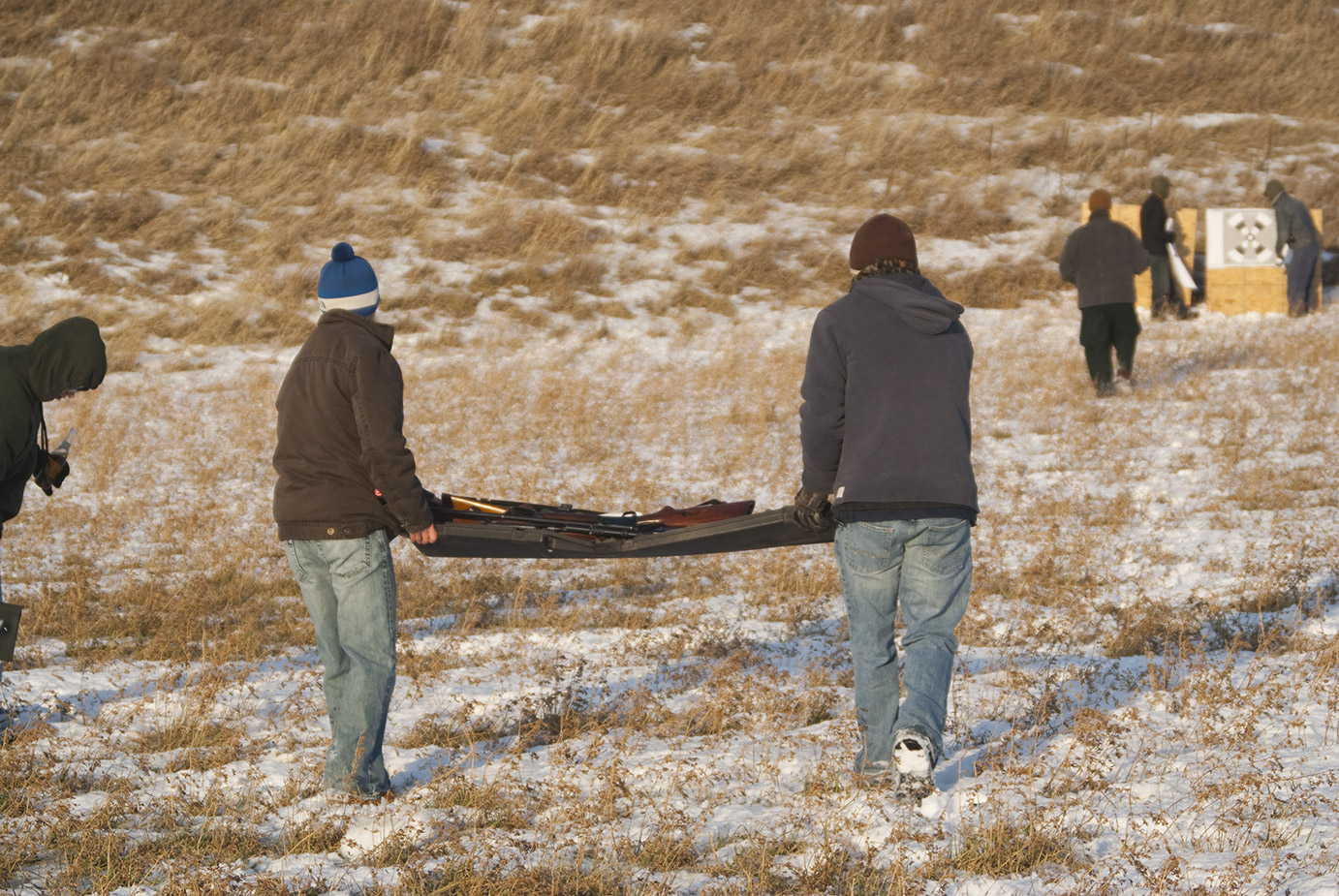 Setting up for Rifle Cricket
Play: All players get three shots per round. To begin, all members of one team shoot. Their score is tallied for the round, and the other team shoots. Teams take turns shooting until the end of the game. Scopes are not allowed.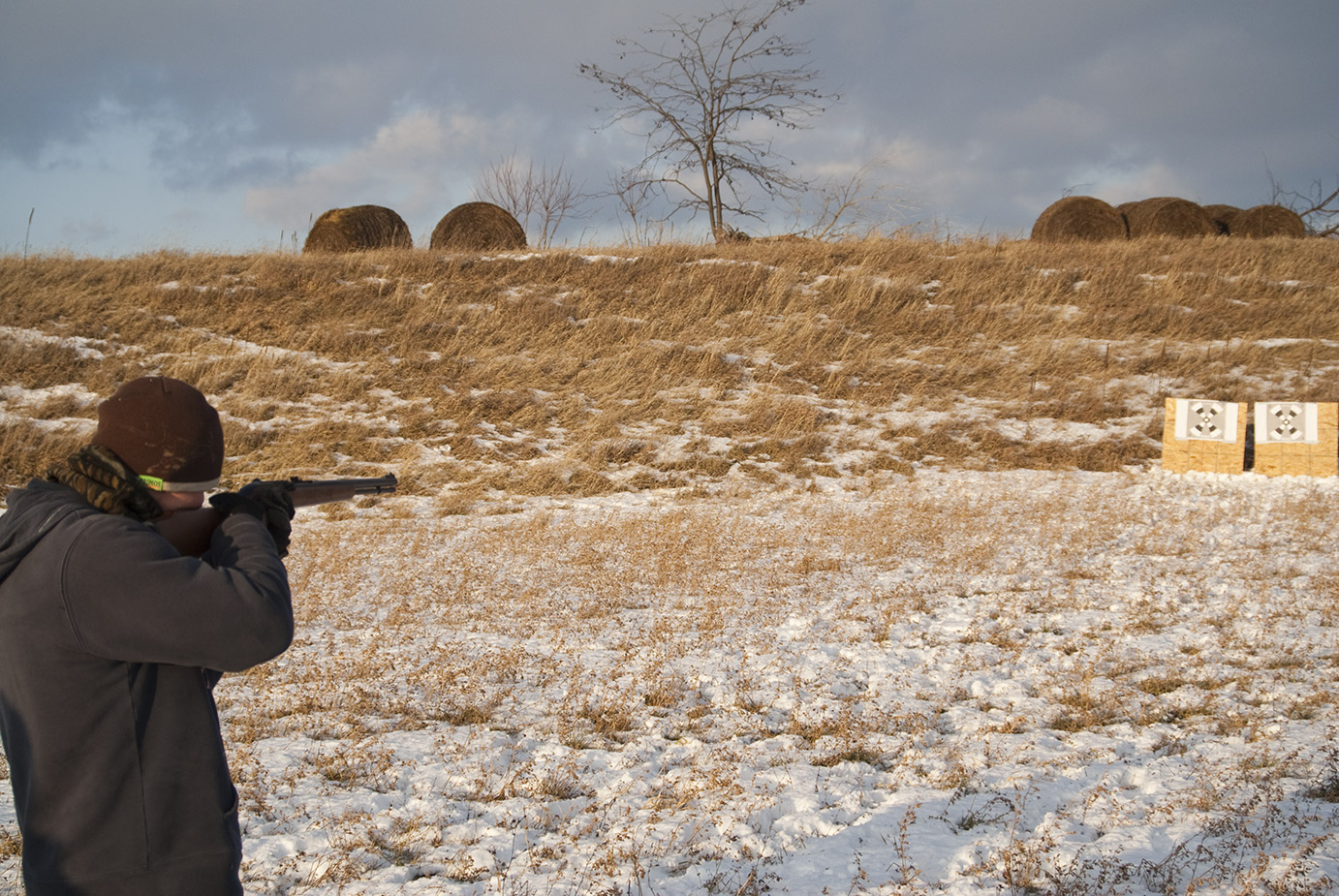 Bob Estes Shooting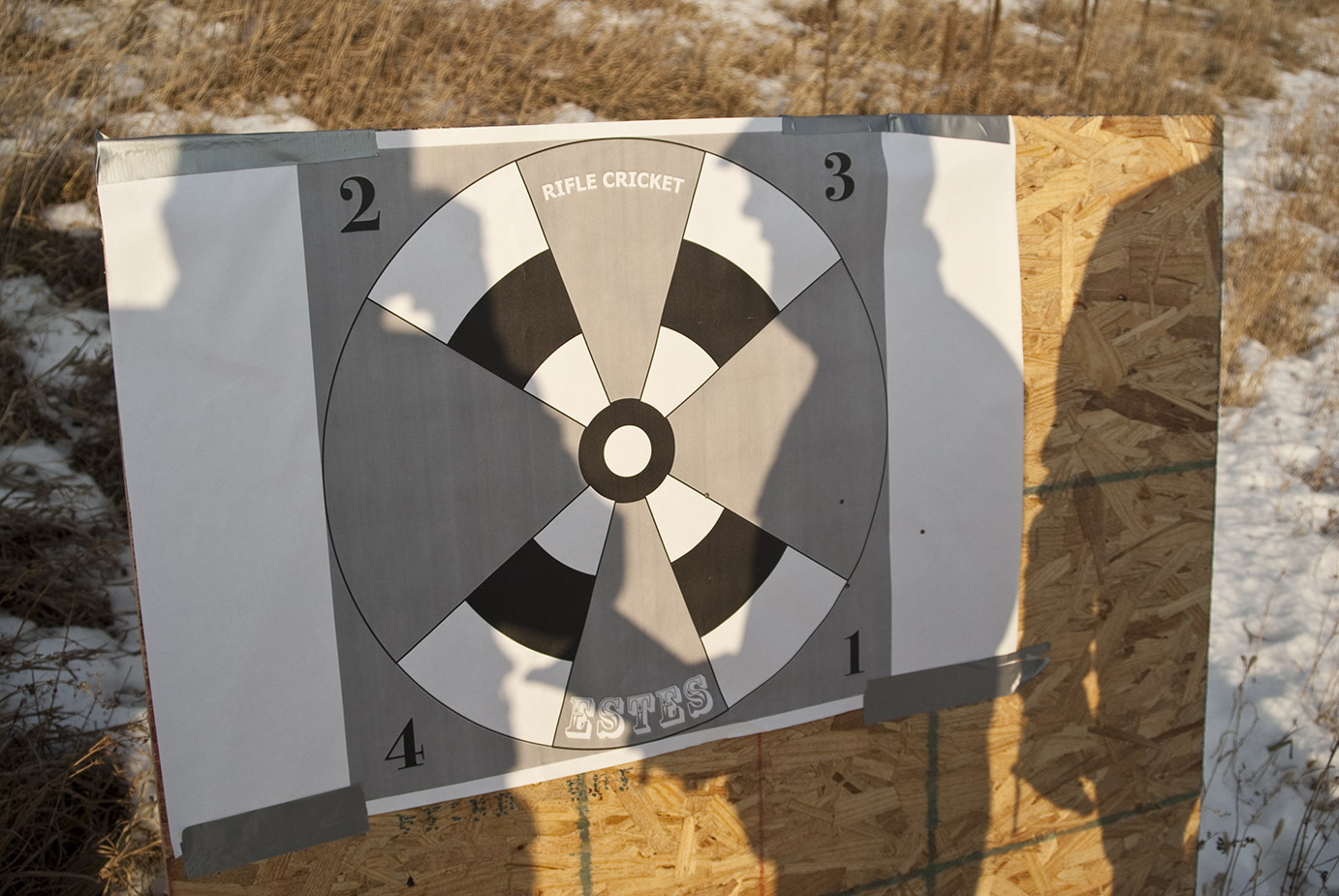 Rifle Cricket Target 02 In Use
Close: If a number or bull is hit three times, it is closed. Once a zone is closed, it may count for points if hit again and the other team does not also have it closed. Bull is worth 5 points.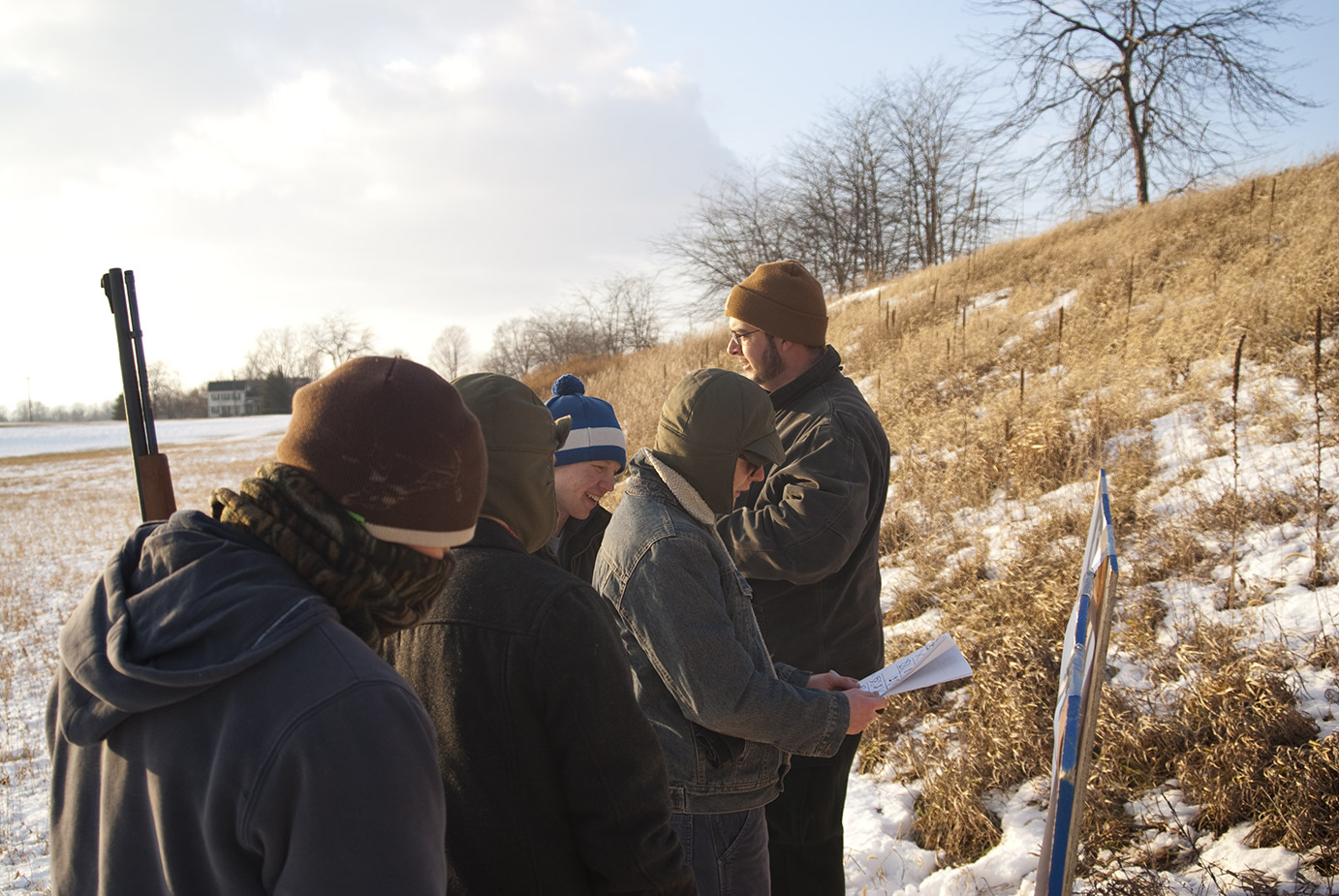 Keeping Score
Win: Be first to close all the numbers and bull, while also having at least as many points as the other team. The game can have a winner without any points being scored by either team.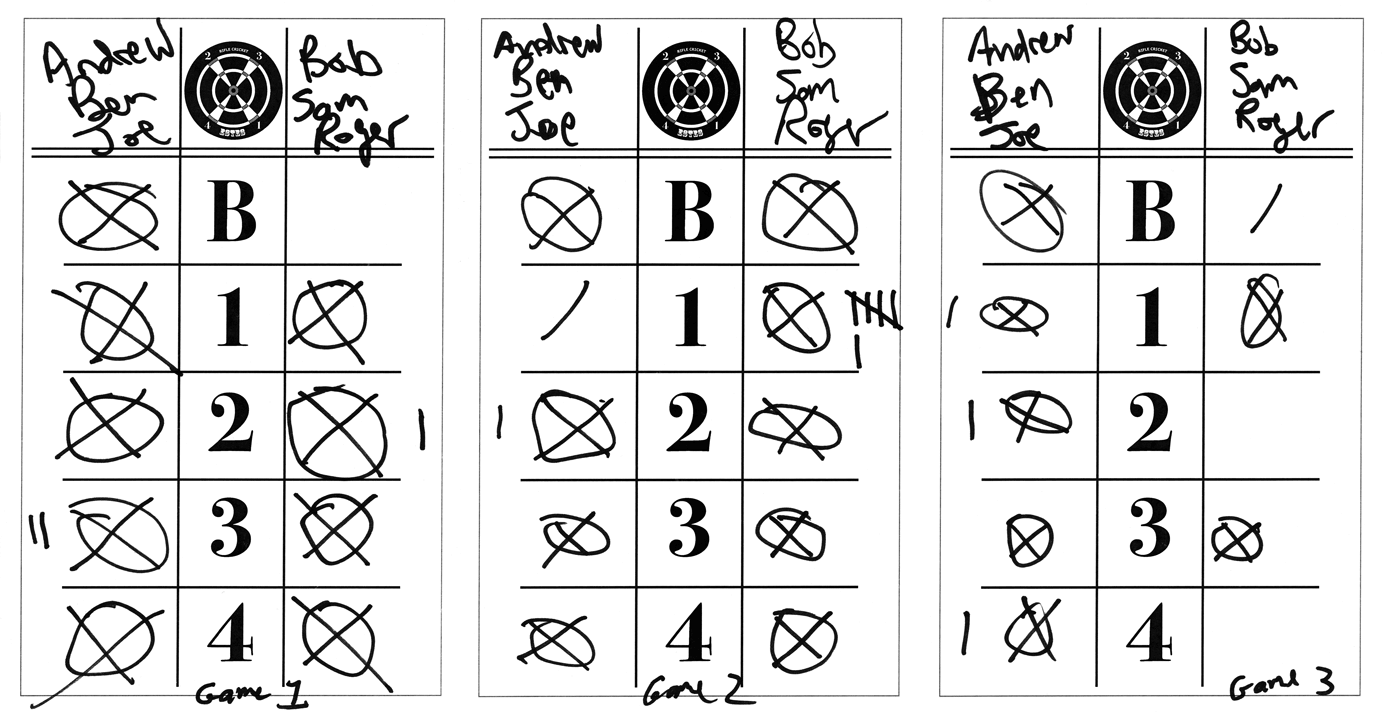 Score cards from the first match of Rifle Cricket; Andrew, Ben and Joe won best of three.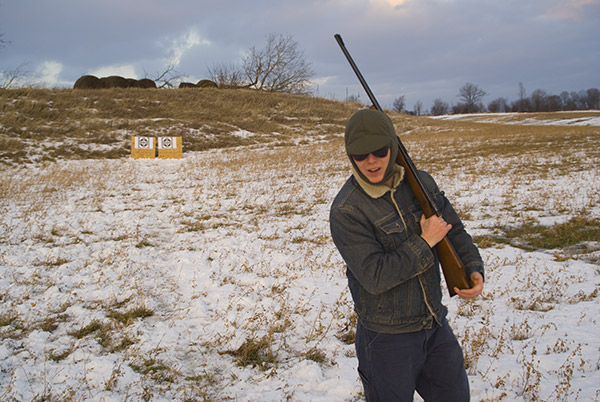 Me after losing the first match of Rifle Cricket; December 25, 2008
A note to readers: I would like to thank my brothers - Ben, Bob, Sam and Joe - and my friend Andrew Wilkins for helping with development of the target, and playing the first match of Rifle Cricket. Also thanks to my wife, Ann Torockio for taking some great photos of us.
Congratulations to the winners! Next time you guys can be on my team.